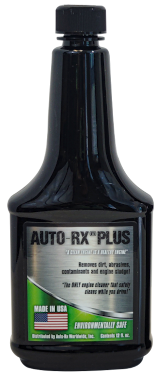 What is Auto-Rx® Plus and why should I use it in my vehicle?
Auto-Rx® was developed as a environmentally safe alternative to the strong solvents often used in the cleaning of industrial equipment. Because of it's unique formulation Auto-Rx® works in a wide variety of applications, including cars, trucks, and motorcycles. The latest blend of this patented product is called Auto-Rx®Plus. Auto-Rx® Plus works faster and outperforms earlier Auto-Rx® formulations.
In an engine Auto-Rx®Plus slowly dissolves oxidized contaminant that has build up over time. Tests have shown Auto-Rx®Plus can restore lost compression if the loss is due to sticking or stuck piston rings. Auto-Rx®Plus also has the ability to rejuvenate rotating seals by removing the contaminant around them, often eliminating leaks entirely.
In transmissions Auto-Rx®Plus will remove varnish and other contaminants that prevent the transmission from operating as intended.
Auto-Rx®Plus can also be used in differentials and power steering units with great success.
A series of comparison photos can be found ⇒ here
---
 Is Auto-Rx®Plus easy to use?
Auto-Rx®Plus works as you operate your vehicle, it's not complicated.
Auto-Rx®Plus cannot repair broken or worn parts in engines or transmissions. Auto-Rx® Plus also can not remedy leaks from ripped, torn, or severely worn rotary seals. Auto-Rx®Plus can however insure that lubrication of critical parts is restored in your vehicle.
---
 How do I use Auto-Rx®Plus in my engine? 
The basic application requires that you first change you oil and filter. Add two 12 oz bottle of at this time. Drive your vehicle as you normally would for 2,000 – 4,000 miles. Then change your oil and filter. Do not add any Auto-Rx®Plus . Drive an additional 3,000 miles before changing the oil and filter again. At this point your Auto-Rx®Plus basic treatment is complete . You are now free to resume your normal oil change intervals.
---
How do I use Auto-Rx®Plus in my automatic transmission?
Check that your transmission level will allow for the addition of 6 ounces (1/2 half bottle) of Auto-Rx®Plus. You should not overfill your transmission, even though it will only be for a short period of time. Drive your vehicle 1,000 – 3,000 miles before changing the transmission fluid. You may wish to change the transmission filter at this time. Your Auto-Rx®Plus treatment is now complete. You are now free to resume your normal transmission fluid intervals. 
---
 Can Auto-Rx®Plus reduce oil consumption?
Hi, I have had a great experience with my 242,000 mile Acura Integra. When I bought it it burned about a quart every 500-700 miles, after about 1200 miles of running your product it has completely stopped burning oil. I haven't even started the rinse phase and am very impressed with this product. I never thought anything could do what Auto Rx did. I will tell everyone. Thanks for making something that actually works! -Josh
---
Can Auto-Rx®Plus stop rear main seal leaks?
Im a Volvo Resto Man Id say I service the cars I restore with Auto-Rx about 80% of the time before they leave. I also recommend it to my service customers. Most recently, a customer brought me her 1990 244 to be refurbished. The car was exhibiting some oil loss from the rear main seal. Part of the service included an oil change with our favorite elixir. When the car came back for the follow-up about 2,000 miles later, the bell housing and surrounding areas were completely dry, no sign of the leak at all. Not the first time Ive had these results. Ive stopped leaks at cam and intermediate shaft seals, crank front seals, too. The red block 240s are often plagued with gummy piston rings from lack of high speed use or poor oil change upkeep. This leads to piston slap. Using Auto-Rx cleans the piston rings and quiets the engines. I find that following the maintenance routine also keeps the Volvo flame trap system clear, very important in these cars.
---
Can Auto-Rx®Plus remove sludge?
 Hi Frank,
I received my order today of 5 bottles of AutoRx Plus, thanks for the fast delivery.
Eight years ago I bought a 2001 VW Passat 1.8 turbo wagon with 65,000 miles on it. Soon after buying it I noticed the cam chain tensioner was not functioning correct because of a sludge build up in the engine. The previous owner had not changed the oil regularly or used the wrong oil, which can cause terrible problems in this engine quickly.
After reading about the problem on some internet Passat forums I learned about AutoRx. I cleaned the engine with your product and now the car has 250,000 trouble free miles on it.
 Last week I bought another Passat with the 1.8 turbo engine with 75,000 miles on it and I will be putting your product in it on a regular basis.
Thank you for a great product! Dan
---
 Can Auto-Rx®Plus remove sludge and recondition the rotating seals with one application?
Hello Auto-RX, 
I used Auto-RX in my 2.8L 95 VW Passat, with 200,000 miles. The motor was leaking oil… using about 1 1/2 quarts every 3000 miles… and looking into the oil fill hole, it was sludged up bad.

I spent a day reading all the different info on different brands of treatments. Auto-RX made the most sense, so I spent another whole day reading all the reviews and information on it. It was making more and more sense, because it wasn't a harsh "overnight" treatment… it was a safe and gentle "over time" treatment.

I went through your "Sludge Removal/Oil Burning protocol with 2 quarts Auto-RX. At 1000 miles I looked into the oil fill hole, and the oil was scary dark! I changed the filter. By the end of 2000, my oil consumption got worse- up to 1 1/3 quarts in only 2000 miles! But I didn't panic because of the research I had done. It made sense that this would happen because the sludge from around the seals was being removed and the seal material was being "conditioned". By the end of my 2000 rinse cycle, oil consumption improved only slightly. Then by the end of the following oil change the oil consumption improved more… down to 1 1/4 quart every 3000 miles. With subsequent oil changes, it improved a little each time. It leveled out at 3/4 quart every 3000 miles.

My favorite parts of this cleaning process: 
1. looking into the engine when changing the oil- it looked like a newer engine!
2. not seeing a big oil spot in my parking spot!

Thank you Auto-RX for making such a great product! 
I love what it did for my car, and recommend this product to all my friends now!